Do You Like Scary Movies?
Now updated for 2023! We are broadening our horizons, but instead of removing films we're just going to keep adding until we are up to like 1000 I guess.

Well, well, well it looks like we've found ourselves back on our scary movie bullshit once again. 

We have an even longer list going now so pass the candy corn, queue up the Netflix and check out our latest list of our favorite (as usual, a warning: favorite does not necessarily mean best) Halloween go-tos!

(We didn't want to limit ourselves to only streaming options, but if there's an asterisk then you can watch on Netflix, Amazon, etc.)
P.S. if horror movies aren't your thing, check out our Halloween Spotify Playlist!
38. The Monster Club (1981)
I'm honestly not sure how we just discovered this one this year? It's an anthology which we love and also has Vincent Price and an amazing soundtrack. Also a plus: you can watch it free on YouTube!

37. Next of Kin (1982)




A fun 80s Australian horror film with a score by Tangerine Dream. What else could you ask for? Currently streaming on Criterion Channel (October 2022).

36. Devil Bat (1940)




We recently branched out into some earlier horror movies (we usually stick to 60s/70s) and I think this was probably one of the most fun. While Lugosi is most well known for his portrayal of Count Dracula, we really enjoy him in some of his sillier roles, which definitely includes Devil Bat.
35. House of 1000 Corpses (2003)
Okay so Rob Zombie's movies may not necessarily be cinematic masterpieces, but the man knows how to create a creepy aesthetic. Both House of 1000 Corpses and The Devil's Rejects have that perfect throwback grindhouse-y vibe that we love. 
34. The Lost Boys (1987)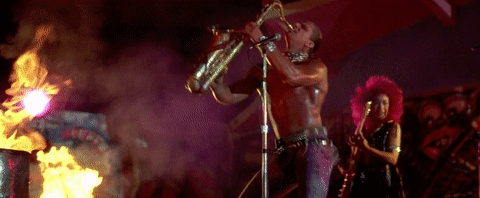 Hot vampires in leather and Sexy Sax Man. Can't believe we don't have it higher on this list tbh.
33. A Nightmare on Elm Street (1984)* 

Hot Johnny Depp in a crop top ftw. Probably our favorite of the classic 80s horror movies. Available to stream on Max.
32. Death Becomes Her (1992)


An understated classic. Meryl Streep, Goldie Hawn, and Isabella Rossellini wearing nothing but chunky necklaces and a sarong? Pretty sure this caused some sort of sexual awakening when we watched it when we were like 8 and it still makes us feel some sort of way. 
31. The Love Witch (2016)*
We fell in love with Anna Biller's The Love Witch almost immediately. The wardrobe, the sets, the 70s throwback is all done perfectly. If you're looking for some 70s witchy vibes we definitely recommend this one. Available to stream on Amazon.

30. The Funhouse (1981)




An overlooked Tobe Hooper (Texas Chainsaw Massacre, Poltergeist) classic IMO. Can't believe we just discovered it but it's a fun lil slasher type number that takes place in an incredibly well decorated funhouse.


29. Midsommar (2019)*
While it may not be as traditionally "spooky" as Hereditary (that one is a bit higher up on the list), Ari Aster's second full length film is definitely still definitely worth a watch. Available to stream on Amazon.
28. Creepshow (1982)
We love a good horror anthology and Creepshow has the perfect amount of 80s campiness to make for a very entertaining watch. It was also written by Stephen King and directed by George A. Romero so you really can't go wrong. If you enjoy the original, there's also a sequel you can watch after.
27. Murder Party (2007) 
This is one of the new ones we added this year. While it came out in 2007, we just discovered it recently and loved it (we love anything with a good Blade Runner reference). It was written and directed by Jeremy Saulnier, who also did Blue Ruin and Green Room which are also definitely worth checking out. 


26. The Shining (1980)*


A horror classic that's worth it for Shelley Duvall's layered looks alone (I guess Stanley Kubrick does a pretty okay job as well). Also, an honorable mention goes to Doctor Sleep (2019), which makes for a pretty perfect double feature (both are available on Max). 
25. Hocus Pocus (1993)
If you're not into horror movies, this may be all this list has for you. It's not Halloween until we get our yearly helping of SJP and Bette Midler as child-hungry witches.


24. Idle Hands (1999) 
Part stoner movie/part horror film/part comedy, Idle Hands is a quintessential 90s Halloween movie that (unfortunately) tends to be forgotten. The Offspring cameo and some of the outfits may make it a bit dated (1999 was a very special year), but that's part of what makes it so good.
23. Suspiria (2018)*



Sorry film nerds, we are putting the remake on the list. While we love the original, we're suckers for a Thom Yorke soundtrack and also Dakota Johnson is extremely hot in it. Also, you can stream it on Amazon.
22. Cabin Fever (2002)
I guess we can't have a horror list without including some Eli Roth. Cabin Fever is a little stereotypical in the sense of it being about teens gone wild in the woods, but it's self aware enough to still be a good time. Just a heads up, if you're going to watch it make sure you watch the original and not the remake because the new one is (sadly) pretty horrible.
21. The Descent (2005)
While it may not be super Halloween-y, it is probably one of our favorite recent(ish) horror movies. An all female cast trapped in a cave combined with some creepy creatures always make for a good time.


20. Shaun of the Dead (2004)
We love all of the Cornetto trilogy movies (Shaun of the Dead, Hot Fuzz and The World's End), but Shaun of the Dead is arguably the most Halloween appropriate. Also, there's a really good zombie beating scene set to Queen's Don't Stop Me Now.
19. Les Yeux Sans Visage (1960)*
Translated to Eyes Without A Face in English, this French horror film is a timeless classic. Available to stream on Max and the Criterion Channel.
18. The Craft (1996)
The movie that had us playing "light as a feather, stiff as a board" at all of our middle school sleepovers. Chock full of witch-y goth goodness, 90s babes and rad outfits it gives us all the fall inspo we need. Fairuza Balk in pleather ftw.

17. Evil Dead II (1987)
Bruce Campbell and Sam Raimi: two of our favorite things. ♥
While we love the whole trilogy (and the TV show, which is on Netflix), Evil Dead II is probably our favorite one. Don't worry if you haven't seen the first one because they provide a very quick recap to get you up to speed.

16. The Frighteners (1996)
This 90s gem features Michael J. Fox as a paranormal investigator battling the forces of evil. It's creepy with a good amount of comedy and also has the Sonic Youth cover of Superstar in it so it has to be good.


15. The House of the Devil (2009)* 
Another recent(ish) horror movie with a rad throwback vibe (think Stranger Things) is Ti West's House of the Devil. Set in 1980, it focuses on a girl who ends up with a very sus babysitting job in a creepy mansion. What could possibly go wrong? Also, indie it-girl Greta Gerwig is in it so it gets bonus points. Available to stream on Amazon.


14. It Follows (2015)
While this is a little newer than most of the films on our list, it instantly became one of our favorites. It maintains a super creepy atmosphere from start to finish and also has a throwback vibe.

13. The Cabin in the Woods (2012)
Cabin in the Woods is another excellent horror movie with a perfect amount of humor as well as a postmodern twist. It was also written and produced by Joss Whedon and has Jesse Williams in it which is also good. 

12. Don't Look Now (1973)
It's a bit of a slow burn, but it's worth it. Taking place mostly in Venice, Italy, we love the backdrop and the use of the color red is just *chef's kiss*. Also a bonus, Julie Christie is extremely hot in it and she is serving some amazing fall looks.


11. Ghostbusters (1984)
If you haven't watched Ghostbusters in like 10 years and you don't think it will be as good, we can tell you from experience that you are incorrect. Also we still have a huge crush on Sigourney both before AND after she is possessed by Zuul.

10. Hereditary (2018)*



Ayy it's ya boy Ari Aster again. Toni Colette is amazing in it and it will creep you out to the core (something that can be hard to find if you watch a lot of horror movies). Available to stream on Max.
9. The Texas Chainsaw Massacre (1974) 
We watch a lot of horror movies, but the original Texas Chainsaw Massacre is probably still one of the creepiest horror films ever made. Even after 40 years it still creeps us out and has kept us from taking road trips in rural areas.


8. Scream (1996)
Probably our favorite of the teen slasher movies and our second Wes Craven movie on the list. With its iconic opening to it's constant references and homages to past horror movies, we feel like we still discover new things when we watch it (i.e. Rose McGowan wearing the same top as Johnny Depp in Nightmare on Elm Street). 


7. Beetlejuice (1988)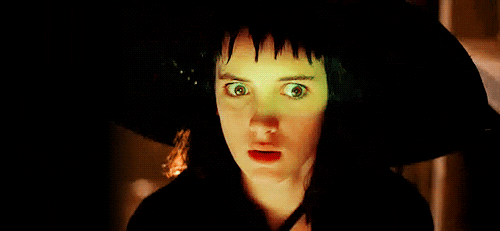 Baby goth Winona might be our favorite Winona. A Halloween classic.


6. Halloween (1978)
Before she was on Scream Queens, Jamie Lee Curtis was a scream queen in the Halloween franchise. Definitely a requirement for the holiday season. We also enjoy Halloween III which somehow has nothing to do with the other movies but is still fun to watch.

5. Us (2019)


We are huge Jordan Peele fans and even going into it with extremely high expectations, we were still blown away. The perfect amount of humor (Tim Heidecker is in it), gore and creepiness.

4. Night of the Living Dead (1968) 
When it comes to zombies, we had to go old school. We love all things George A. Romero but our favorite may have to be his original.

3. Carrie (1976)
Hell hath no fury like a weird girl scorned. Even if we already know how it ends, we still love to watch this horror classic every October. 

2. The Rocky Horror Picture Show (1975)

We obviously can't do Halloween without this one. Perfect outfits, perfect songs, perfect movie. Also important: really good leather jackets and Tim Curry's legs.
 

1. Rosemary's Baby (1968)
Fab outfits, devil worship and John Cassavetes? No wonder it's our favorite horror movie. We always kick our Halloween movie binge off with Rosemary's Baby and we love it more every year.


We hope you enjoyed our list and hope this will hold you over until October. If you have any of your own recommendations feel free to send them our way as we're always looking for new horror movies to check out (and we're beginning to run out).